SATIN HOUSING FINANCE LIMITED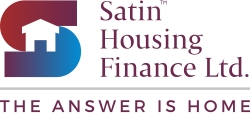 Satin Housing Finance Limited (SHFL) is a newly incorporated on April 17, 2017 as a wholly owned subsidiary company of Satin Creditcare Network Limited (SCNL). The SHFL has its registered office in New Delhi, and have started its operations after receiving a formal approval from the regulator, i.e. National Housing Bank (NHB).
SHFL will be engaged in providing long-term finance for purchase, construction, extension and repair of houses for the retail segment along with loans against residential property, commercial property and plots.
SHFL will offer a suite of innovative and flexible loan products, in sync with customers' needs and at competitive pricing.
SHFL is avowedly a strong believer of complete transparency and fairness in all its dealings and managed by experienced professionals who, as their prime mantra, are easily accessible and are highly committed to excellence in customer satisfaction.
To know more, please visit:
Satin Finserv Limited

Satin Finserv Limited is a wholly owned subsidiary of Satin Creditcare Network Limited, a leading NBFC-MFI in India. SFL's aim is to "serve small business owners (MSMEs) in a manner that is mutually beneficial" by providing them loans for their business needs. Effective from 1st March 2023, the Business Correspondent subsidiary, Taraashna Financial Services Limited, merged with Satin Finserv Limited. The newly formed entity now possesses a total of 178 branches and a workforce of 1,612 people as of 31st March 2023. SFL has a specific focus on small business owners in manufacturing, trading and services with an annual turnover of less than Rs. 200 lakhs. SFL has adopted a unique credit underwriting and assessment model to understand the income source and determine the eligibility of potential customers. The customized processes are designed to deliver speed, flexibility and simplicity to the customers, while ensuring adequate control.
SFL's product offerings include MSME – LAP and Business Correspondent activities to various banks. Loans in the range of Rs. 2 lakh to Rs. 15 lakhs are offered to customers falling under the category defined and against an "immovable property". Eligibility is measured across multiple parameters, with the loan amount depending on the type, quality, and market value of the collateral security a customer is able to offer. SFL considers a wide range of properties for this purpose, and the customers can repay the loan in easy, equal monthly installments over a chosen period of time. Non-individuals, self-employed non-professionals / professionals, businesses (registered or otherwise), and lower and middle income groups are the key SFL targets.
MSME Business Loan
Wholesale Lending
To know more, please visit: